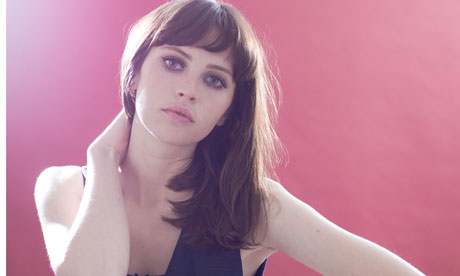 There's a long interview article about felicity in today's Observer newspaper. Here's an excerpt...
When I arrive at the Soho hotel to interview Felicity Jones, there are two paps, Ian and Perry, lurking outside the entrance. They're after Ed Westwick, Jones's co-star in the new British romcom Chalet Girl who is best known for his role in Gossip Girl, and there's also the prospect of a few leftover celebs from the film's premiere the night before – Bill Nighy, who plays the father, and Brooke Shields, the mother. And what about Felicity Jones?

"Oh, she's such a pretty little thing," says Ian. "Tiny. Gorgeous."

"What's the name of that actress in Breakfast at Tiffany's?" asks Perry.

Audrey Hepburn?

"Exactly, she's got a real Audrey Hepburn look about her."

She has. Even in the baggy snowboarding outfits she wore in Chalet Girl, she has the kind of face that lights up a camera at 100 paces. What's more, you might not know her now, but she's on the cusp of being a major star. Although you probably won't see Ian and Perry's photos of her any time soon.

You can read the whole article at
www.guardian.co.uk
.
I'll be buying the paper as it has a nice big picture of Felicity on the front of one of the sections.